Starting a New Event
When you Start a New Event, Finish-Time creates a Finish-Time Database File (*.ftd) and imports all of the attributes from the Event Template Manager. Event attributes like Car Classes and Indexes, PAX Index Classes, Assignments, etc are copied into the *.ftd file. Therefore, moving the Finish-Time Database file from one computer to another maintains ALL of these attributes for the current event. You have the option to modify these properties on a event by event basis, without affecting any of your other events.
Select File > New Event in the Menu Bar.
Enter a file name for the event and select the folder in which to save it.
Enter the Date, Location, Event Chair and Event Name, and number of Runs that are planned for the current event, then click OK. These attributes can be changed at any time.
Note: Finish-Time will collect up to 12 runs regardless of the number of Runs chosen, this setting only affects printing and the results web page layout, and ETA Calculation, and can be changed at anytime.
In this article
---
Importing the drivers from a previous event and/or from MotorsportsReg.com eliminates the redundant re-entry of the same data from one event to the next during driver registration. You can even import from more than one source. Finish-Time's data importing modal confirms each driver's CarID and Barcode are confirmed first before the driver is imported into the Event Database. Any duplicate CarID's and Barcode's will fault into a seperate table for you to correct as needed.
Datasource options include
Another Finish-Time Database. (.ftd)
MotorsportsReg Export File(.csv or .txt)
To import drivers from a previous event
Select File > Import.
Choose which data source in the Files of Type drop down menu, in this case choose *.ftd
Browse for the and choose .ftd file to import.
Only the driver registration information from that event database is imported.
Note: It is highly recommended that if you are going to import from both sources that you import the previous event first, followed by the MSR data second. Our MSR import modal will first attempt to insert the driver, if that driver already exhists (using MSR's Unique ID field, then the drivers first and last name) it will update the current record in the event database.
To import drivers from MotorsportsReg
To facilitate quick, automated importing and driver registrations based on on-line payment status, you will need to configure a custom data report on your MotorsportsReg Admin account
Select File > Import MotorsportsReg data....
The MSR Import Options dialog presents a choice of how you can verify each driver's Membership Status of each driver in Finish-Time and if drivers should be registered based on payment or always.
Click OK.
Choose which data source in the Files of Type drop down menu. Your options here are *.csv (comma separated value) or *.txt (tab delimited text).
Browse for and choose the file, then Click Open
Custom MSR Report for Finish-Time
MotorsportsReg.com has all of the data that Finish-Time needs to register a driver, you just need to create a custom Report to retrieve it. By following the instructions below, the Custom report you creat will include the required datafields Finish-Time uses for the best experience.
Note: Users updating from Finish-Time 4.0 must add the Unique ID field to their MSR Export Report below.
Log in to your Motorsports.reg Admin account
Navigate to your list of events and click "registrations" on any one of them
Then click "Reports"
Scroll down to "Attendees + Assignments", then click "AxWare Event Export (Class + PAX)"
Click the Edit button near the top
Locate the "Included in Report" items, and delete them all.
Locate the "Available Columns" and copy these items over to "Included in Report" They do not have to be in any particular order.

Member Status
E-mail
Address 1
City
State
Zip Code
Emergency Contact
Emergency Phone #
Class
Modifier/PAX
Make
Model
Year
No.
First Name
Last Name
Paid in full?
Member Types
Mem. Expires
Member #
Unique ID

Click the Save button
Choose a unique name and update the description as you like, then click the red "Save Report" button.
After saving, click "Back to Report List"
Now, your custom "Finish-Time" report should be listed near the top under My Saved Reports. This new custom report (export) can be used for any of you events going forward.
Note:
The Member Number field is used by Finish-Time for the
Barcode
. SCCA Members should be entering their Member Number here. Finish-Time does not confirm this number, but it does not permit duplicates, park that record into a fault table that you can correct later.
Importing from Multiple Sources
Finish-Time will confirm if there is a duplicate CarID and Barcode while importing either a Finish-Time Database AND while importing MotorsportsReg data. Now, if you are only importing from previous event, there wouldn't be a duplicate to find. But, if importing from two sources, here is where this confirmation is important. A typical scenario would be if you accept both on-line and on-site registrations, importing from MotorsportsReg and a previous Finish-Time database would be a feasible option. Ideally, you would first import the MotorsportsReg data first, since these drivers are most likely going to participate. Then follow up with a second import of a previous Finish-Time database. Our import model will fault the duplicates to the Import Fault table for you to correct as needed.
---
Each driver is identified by their CarID; a unique key identifier that is used as a reference to stage drivers/cars during run heats. The CarID is comprised of the driver's car number and class with no spaces. To maintain consistency and to eliminate any confusion during the event, Finish-Time will always format the CarID by deleting any spaces and converting lowercase text to uppercase.
Using a unique key identifier for each driver eliminates any possible registration and staging conflicts, especially during a timed heat.
Note: Finish-Time handles CarID's as string literals. Therefore both 01ES and 1ES are both valid and unique CarID's.
Select View > Registration, or if it is already opened, click the Registration Tab
The driver might already be in the database, try searching for the driver in the Search Field at the top of the Registration Panel.
If not, then Click the New Tool Bar Button.
Enter the driver's CarID as number and class. This must be a known Standard Class defined in the Event Properties, and not a PAX Indexed Class. The Yellow Caution Sign next to the CarID field will change to Green with a valid CarID. Then press RETURN on your keyboard. If the Caution Sign turns remains yellow or turns red, see CarID Conflicts.
The Class drop down menu defaults to the same class entered in CarID. In addition to the declared class, the PAX Indexed Classes that your Club has established are included here, choose the class the drivers declared class.
Enter the Drivers name, Car Make, and Model, etc.
Clicking the Registered/Not-Registered switch will register the driver.
At this time, you may choose the drivers scheduled Work Heat and Work Position. Although, Assignments can be handled later, after event registration is closed.
A yellow caution sign

signals that the Standard Class that you entered does not exist, and the driver can not be registered.
A red caution signs

signals that the CarID that you entered is already assigned to another driver. Click the caution sign for the status. Now, if the conflicting driver is NOT registered, you can Re-Assign that drivers CarID. However, if the other driver IS registered, you must choose a different CarID. No two drivers can share the same CarID.
See Preserve Driver when Re-classing to keep the conflicting non-registered driver in the event database.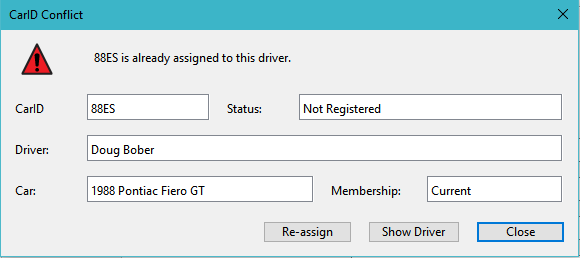 A driver may be re-classed at any time, even during a timed event. Enter the new number and or class in the CarID field, them press Enter or the Tab key.
Note:
A printed
Report
of Registered Drivers, sorted by CarID and Class can be generated when registration closes.
At the bottom of the Registration Panel is the Tech Inspection area where you can optionally track the drivers helmet date, Inspection Status and Notes regarding Tech Status. The helemt date is cached for each driver at every event.
Note: Tech Inspection is also available in Finish-Time Web (subscription required). Your Tech inspectors can update this info as each driver goes through Technical Inspection, they can even print the updated Barcode Label which includes the SNELL Helmet date.
---
Since class bumping rules vary from National and Local Sports Car Clubs, the bumping functionality in Finish-Time is wide open and therefore, simple to use.
Select View > Bumping, or if it is already opened, click the Bump Tab
The list of eligible classes for bumping is located on the left side of the Panel. Use the drop-down menu to select the Class to bump to.
The table located on the right side of the Panel lists all registered drives and is there as a guide. You can sort this list by clicking on the headers and re-size the columns as needed.
To Bump Drivers
Any classes that are eligible for bumping will be listed on the left side of the Panel.
Click the Drop Down Menu of the class to Bump, navigate through the Categories to choose the class you are bumping to.
To Un-Bump Drivers
Any classes that are eligible for un-bumping will be located on the left side of the Panel.
Click the drop-down menu and select [----].
Or, to un-bump all drivers, click the Reset Tool Bar Button.
To Reset All Bumps
Clicking the Reset tool bar button will reset any bumped drivers back to their respective declared classes.
To Auto Bump
New for Finish-Time 4.1 is the Auto Bump function. By default, this is configured with a custom bump schedule as an example, but can be re-purposed with your Bump Table. The bump follows each class table in linear fashion, starting with the top most schedule. See Auto Bump configuration for details and instructions to configure your own custom Bump Table.
Clicking this button will bump all classes following the bump schedule until the miniumn number of cars required for class is acheived.
---
Any driver may be deleted from the database at any time, even during timed runs. They can be deleted in the Registration or Results Panels. Just click the Delete button in the Tool Bar, with the driver in view.
Finish-Time will re-calculate the Bump if that Driver was bumped to another class.
Another way to delete a driver is to right-click on the driver listed in the Drivers List, and choose Edit > Delete Driver.
---
Since Work Assignments and Grid Positions vary with National and Local Clubs, the Assignments Function Panel enables you to assign participants to Run Heats, Work Positions and Grid Positions in virtually any fashion. To group drivers into Classes or sort by Number, click on any of the table headers to sort them as required for selection. They can be assigned individually at Registration or globally using the Work Assignment tool.
To Assign Run Heats, Work and Grid Positions to Drivers
Select View > Assignments, or if it is already opened, click the Assignments Tab
Use the list of participants to select one or more drivers that will be assigned to that heat. Click on each of the headers to sort the list for better viewing.
Choose the Heat Number and or Work Positions to assign workers to.
Click the Grid cell for the driver you need to assign a grid Position too, then click again to active it and enter their Grid Number. Use the Keyboard Up or Down Arrow keys to navigate to the next driver and enter their Grid Number.
Note:
A printed
Report
of the Driver and Work Assignments listing each driver and their assignment and grid position. A check box is provided on the report to confirm that each driver arrived for their work assignments.
Finish-Time LIVE
will also list a similar report for drivers to view during the event.
---
The Event Properties are the specific attributes for current competition event. These properties were copied from the New Event Template when you started a new event. All of these properties are fully editable if required. In most cases you will not need to change these, but the option is always there.
The one exception is Home, which contains the Event Name, Chair, Event Date, etc. which you entered when you started the event.
Event Properties Menu
Home

Same information that you entered when you started the event, and the First Car Off time, which you can change here.

Registration

Member Fee, Non-Member Fee etc.

Standard Classes

Table containing Class, Index, and Category.

Indexed Classes

Additional classes where the drivers best time is multiplied their respective Standard Class Index.

Categories

Used to build the Bumping menus for easier navigation.

Work Positions

Work Positions that appear in the Registration Panel and the Work Assignments Panel.

Standings

Number of cars required for a trophy for each placing. (1st, 2nd, 3rd, etc.)

Penalty

Time in seconds for each Pylon Penalty applied to a driver.
Note: If at least one driver is in the event database is assigned to any of the classes, then only its PAX Index and list order may be changed.